May Silk Embroidered Handkerchief is made from high quality Bao Loc Silk – The most luxurious silk fabric in Vietnam – The place is considered the capital of silk in Vietnam. With natural soft material, cool in summer and warm in winter, very good sweat absorption. The hand-embroidered hand-embroidered handkerchief of May Silk brand is chosen by many customers as diplomatic gifts, Vietnamese gifts for foreigners, and gifts for partners. Towels are not only expensive because of the material, but also have a preeminent value in the delicate hand-embroidered strokes, hand-embroidered by skilled and long-time artisans. Minimalist hand-embroidered pattern on shiny silk fabric creates a luxurious men's handkerchief, worthy of class. Since ancient times, handkerchiefs have become an inseparable object of many people, the more society develops, the more diverse the application of the handkerchief is, in developed countries such as Korea, Japan, etc. .the use of handkerchiefs as indispensable items, especially of businessmen. The hand-embroidered handkerchief of May Silk is not only a handkerchief but also an extremely luxurious and elegant vest accessory. Towels are luxuriously and politely boxed, very suitable as gifts for important events.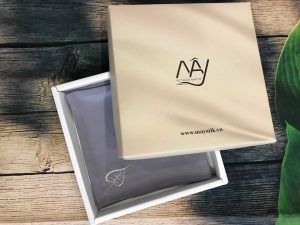 Gray Bodhi leaf embroidered handkerchief – Premium gift
The Bodhi leaf is considered a sacred symbol of Buddhism, playing an important role in the life of the Buddha. Legend has it that Prince Siddhartha sat in meditation under the Bodhi tree and gradually became a Buddha. Therefore, Bodhi is a noble tree, symbolizing boundless joy and happiness. Bodhi leaves bear the shape of a heart as if to send love and happiness to all the world.
Giving a hand-embroidered handkerchief is the wish to give a wish for a peaceful and lucky life, to stay away from bad things, to eliminate tribulations, and to transform murderous intent.
With meticulous hand-stitching and hand-embroidery techniques on smooth Bao Loc silk and elegant gray color – the color represents friendliness and strength, symbolizes success, is also an elegant color. Easy to combine costumes, hand-embroidered scarves are extremely meaningful gifts suitable for male partners' gifts, business gifts, gifts for foreign partners, Vietnamese gifts for foreigners worthy of class. .